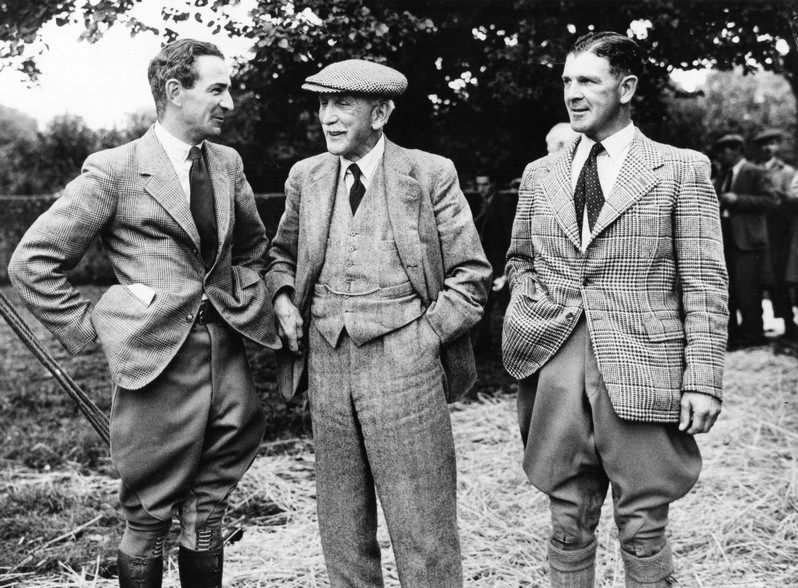 JC Robinson (centre) with sons Henry (L ) and Harris (R) at the South-East Shorthorn Breeders Association Field Day at Iford, October 11th 1949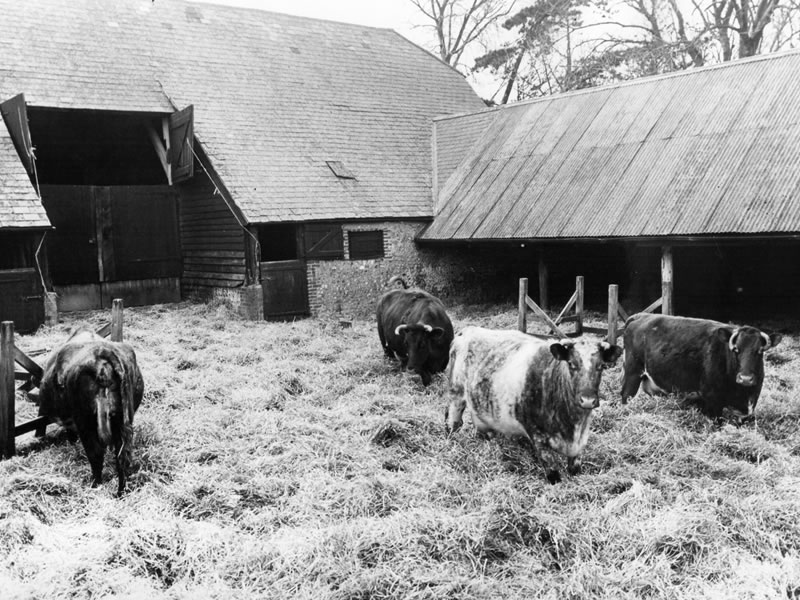 Shorthorn cows waiting to calve in the Norton Barn Yard in the 1950s
The Iford Estate was founded in 1895 by Joseph Colgate Robinson (JCR), who came from a Quaker family of farmers and millers. He became a noted breeder of pedigree Dairy Shorthorn and Guernsey cattle and was a pioneer of tubercle free milk production. He established successful retail farm-bottled milk businesses in Hove and Norbury, South London. The Dairy Shorthorn herd was the largest and best known in the country during the period from the '20s to the '50s and at one time held two world record milk production records for any breed.
He built up the estate gradually, purchasing farms as they became available and by the Second World War owned all of Iford and Rise Farm and was renting Perching Sands Farm at Fulking and Houndean Farm at Lewes. He had also set his elder son Harris up independently at Northease Farm. In 1941 the firm of 'J & H Robinson' was incorporated as 'J & H Robinson (Iford Farms) Ltd'.
During the war his younger son Henry (HCR) was managing the farm at Perching Sands, but on his marriage in 1944 he moved to Iford to manage the farms for JCR (who had moved to live with his family in Newick in 1922).
In the period after the war there were 50 members of staff growing cereals and producing, bottling and selling milk. A pedigree bull was sold each week around the world and in the 'dig for victory' campaign all the land that was ploughable on the hill was ploughed up and sown with cereals.
JCR died in 1962 and HCR continued modernising the farm in an effort to improve productivity and reduce labour costs. He introduced milking parlours at all four Iford dairy herds and drained all the wet marshland, known as the brooks, in order to grow cereals. He also upgraded the Dairy Shorthorn cattle into higher yielding Red and White Friesian cattle.
His son John (JHR) joined the business in 1970 when there were 35 members of staff. The dairy herds were continually expanded until at one point 650 cows were being milked in 5 units and we had the largest herd of Red & White Friesians in the country.
HCR retired in 1987, The tenancy at Perching Sands Farm at Fulking was given up, and Houndean Farm was bought. Ben Taylor joined the staff as a student in 1997. Dairy farming became increasingly unprofitable during the latter part of the century and the final herd was sold in 2003.
Ben Taylor became JHR's Assistant Manager in 2002 and was appointed Managing Director in 2008. Swanborough Farm and the business of 'Greenwood and Son Ltd' was bought in 2014.